Freeland Area Speedy Transit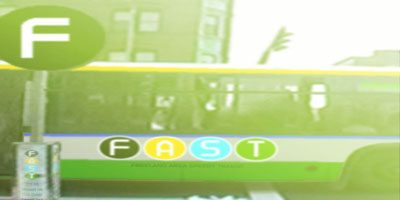 Freeland's New Public Transportation Hub

Welcome to FAST

Committed to service excellence, the 1111 employees of FAST work 24 hours a day, 364 days a year to provide safe, reliable and efficient service. From the bus drivers to janitors, from summer interns to 40 year veterans, FAST employees pride themselves on a job done. Whether on a local jitney or a crosstown express, FAST and its workforce are here for you.

Freeland has so many attractions and resources, you may wonder how you can see them all - well let FAST be your low-cost guide to the city and you won't regret it.

News

The FAST homepage goes live with two pages devoted to the new bus operations in Freeland.

Section One, FASTlanes, F-Stops and Transfer Plazas displays some of the new landmark bus stops in town.

The second section, Shelters, Signage and Vehicles offers you the visitor the chance to download some of the signature pieces that have gone into creating the new FAST stops.

ALSO: Over at the C&J Group website, you can find the brand new main garage facility located on Pace Road. Thanks Carlbone!
FAST Tracks & Waves...

Future sections of this site will

be devoted to the light rail,

subway and water taxi service developments, along with additional bus service. Keep track of FAST - we're on the move!

A FAST Crosstown Express leaves from a stop in the Beacon Point District

Selection of Freeland Bus Stops

[landmarks]

Equipment and Signature Graphics

[props and details]

FAST Feature: The F-Stop

Designed for on-the-go business types who have no time to sit, this sleek, colorful and high-tech bus shelter has many extras that will enhance your very short waiting times and enrich your total FAST experience:

F-Stops are equipped with a cooling mist spray operation for the hottest summer days and an overhead heating element for those frigid winter mornings.

Every F-Stop contains remote web sensors so you will never have to be without your email or online news again.

Each F-Stop is also equipped with audio transmissions from approaching FAST buses, continuously keeping you informed  of current bus locations and expected arrival times.

F-Stop Hubs will be sprouting up all over Freeland in the coming months

- check out some of the first installations in section one of our site. And if you are interested in designing your own F-Stop, please stop by section two.